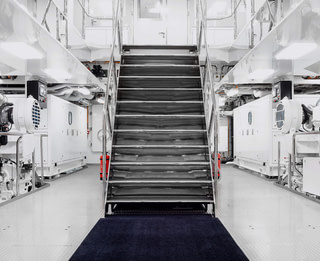 German engineering at its best
It's in our DNA
German engineering excellence is the cornerstone of Lürssen's internationally recognized innovative strength and exceptional quality. This simple fact shows in our long history of consistently improving and pushing the limits of shipbuilding – and it shows in every detail of each vessel we build. With around 600 highly qualified and experienced maritime engineers and an in-house research and development (R&D) department, we are equipped with unsurpassed technological expertise and resources. This dedication to engineering is also reflected in our continuous investments in state-of-the-art technology, hardware and software as well as in our mindset. At Lürssen, specialists in all relevant engineering disciplines form think-tanks to share know-how, examine complexities and master even the most demanding technical challenges.
Sophistication inside and out
Where theory meets practice
At Lürssen, engineering is where it all comes together. Our experts combine highly sophisticated calculation, modelling and testing tools and methods with decades of hands-on experience. This enables Lürssen to not only solve extremely difficult engineering problems, but to plan ahead and predict outcomes with confidence.
2 hubs of expertise
Concentrated at our Bremen and Rendsburg facilities, Lürssen employs specialists responsible for each of the specific engineering disciplines involved in shipbuilding. These include first drawings and theoretical calculations, construction, electrical engineering, mechanical engineering, equipment and furnishings as well as interior design. This constellation ensures seamless coordination and cooperation between disciplines, always within easy reach of all Lürssen shipyards across northern Germany.
Open expert dialogue
To ensure a continuous supply of engineering talent, Lürssen offers training programs as well as dual-study options that combine employment with university education. In addition, we cooperate on research projects with all of Germany's universities offering programs related to shipbuilding as well as many other institutes conducting research in other related fields. This lively dialogue is a constant source of innovative energy and mutual inspiration.
Calculation and simulation
Sophisticated computer programs enable our engineers to calculate compliance with standards and regulations as well as other aspects of the vessel's safety, performance and behaviour at sea. Digital 3D simulations include interior and exterior design, stability and weight distribution, vibrations and acoustics, comfort or long-term material durability.
Testing and verification
To guarantee lasting quality and safety, calculations are backed by physical tests. Our engineers subject scale models to various stresses in different testing facilities to see firsthand how efficiently the planned hull design will cut through water or how a given superstructure will behave in wind. The result is an exceptionally high level of planning security, safety and comfort at sea.

CFD calculation of pool-water behaviour
Advanced methodologies
Complementary mechanical and simulation based testing, measuring and visualization methodologies enable us to gather detailed information on how a vessel will respond to different conditions. Here you see a wind-tunnel test using a scale model as well as a stress analysis. The latter assesses sagging behaviour of the ship's hull and internal structures, with different colours representing the various stresses acting on the materials.
From model testing to real life
From initial calculations and computer simulations to physical tests on scale models, sophisticated instruments and methods enable our engineers to plan, develop and construct yachts with great accuracy. Yet no amount of testing on models can replace the vessel's first encounter with the open sea, the sea trial. Here, our experts have the first opportunity to compare their predictions with the yacht's real-life behaviour at sea. This video shows a towing test to gather data on resistance as well as the sea trial of Azzam – at 180.6 meters the world's longest yacht, a unique masterpiece of engineering, design and construction.
Realise your dreams with Lürssen's unsurpassed engineering expertise
Feel free to get in touch
---