Innovations
THE LÜRSSEN THINK TANK
LÜRSSEN INNOVATIONS OVER THE YEARS.
A HISTORY OF MAKING HISTORY
Lürssen builds the world's first motorboat
REMS has a Daimler engine with a cylinder capacity of 0.462 litres and a weight of 60 kilograms, producing an output of 1.5 hp.
Lürssen designs and builds the world's first half-glider speedboat
Instead of planing hulls, Otto Lürßen relies on a rounded hull and powerful engines. At high speeds, these hulls partially emerge from the water.
Lürssen develops and builds the world's first remote-controlled boat
The HAVEL is 13 metres long and is remotely steered with the aid of a wire.
Lürssen is the first to use a Voith Schneider propeller
Lürssen builds its first experimental boat with a Voith Schneider propeller.
Lürssen speedboat sets world record
Lürssen is the first to reach a speed of of 68.2 km/h, or around 37 knots, with a speedboat. Gert Lürßen himself sets the record on the Weser River.
Lürssen builds the world's fastest motor yacht
SHERGAR is powered by two MTU diesel engines and two Allison gas turbines with an overall output of 16,100 hp, which take her to speeds of up to 45 knots.
Lürssen develops the world's first common mounting of drive and energy systems
Main engines, gearbox and generators are mounted on a large common frame, thereby achieving extremely low noise and vibration levels.
Limitless utilises waste heat for desalination – another first
LIMITLESS utilises the excess heat from her diesel generators for desalination, providing on-board freshwater.
Hybrid propulsion implemented for the first time in Limitless
The 96-metre LIMITLESS is the first yacht to feature an energy-efficient hybrid propulsion system, comprising a combined diesel-mechanical and electric drive (PTI/PTO).
Lürssen pioneers research into underwater exhaust systems for yachts
The findings form the basis for optimum positioning of the exhaust system to minimise backpressure, noise and emissions.
For the first time, a yacht is built with a common-rail main diesel engine
The 70-metre SKAT, built in 2002, is the first yacht to use a common-rail engine as the main engine. This enables a reduction of emissions and fuel consumption to a minimum.
The large windows of RISING SUN are covered with special heat-insulting foils.
This exceptional material lowers the energy required for air conditioning significantly, reducing emissions substantially. RISING SUN has also been equipped with customised particulate filters to efficiently extract soot from exhaust fumes.
Lürssen builds the world's first yacht with a pod drive
Lürssen builds the 90-metres ICE with a pod drive. The benefits: extremely high level of maneouverability, low noise level, reduced fuel consumption.
Lürssen makes a commitment to fuel-cell technology
Lürssen becomes involved in research projects aimed at using fuel cells as an on-board energy source. Fuel cell technology powered by methanol is a big step towards a zero pollution Lürssen Yacht.
Lürssen delivers the world's largest private sailing yacht
EOS has an overall length of 93 metres.To reduce noise levels in the interior when running the engine, she also incorporates the first active engine mounting system in a yacht.
One of the world's largest yachts now uses waste-heat recovery
One of the largest yachts in the world, 155-metre AL SAID is equipped with an extensive waste-heat recovery system for freshwater production through desalination.
Lürssen starts a wood modification project to develop alternatives to teak.
Various modification processes have been studied and combined in order to achieve technical and visual properties comparable to those of teak.
The fuel-cell research project Pa-X-ell is launched with Lürssen on board
Lürssen becomes a partner in the national research project Pa-X-ell, aimed at development and testing of marine hybrid fuel-cell systems utilising hydrogen reformed from methanol.
ARKLEY features a sophisticated wastewater treatment system based on membrane technology.
The treated water is close to drinking-water quality. The solution becomes a standard installation on Lürssen yachts.
A ballast water treatment system is integrated for the first time
TOPAZ is the first yacht to feature a ballast water treatment system.
AZZAM world's longest private yacht
Lürssen delivers Azzam the longest yacht in the world. She not only sets a record with regard to her length of 180 metres and a speed of more than 30 knots – but also her building time of less than three years is record-breaking.
DILBAR world's biggest private yacht by GT
Lürssen delivers the 156-metres yacht Dilbar – the biggest motor yacht in the world by gross tonnage. Without a doubt Dilbar is one of the most complex and challenging yachts that has ever been built, both in terms of dimension and technology. With a gross tonnage of 15,917 t, Dilbar provides spaces in the interior which have never been seen on a yacht before. The impressive project was finished in an astonishing 52 months.
An ambitious R&D project yields an exhaust-gas treatment for NOx emissions
The R&D project KeSS leads to the development of a compact exhaust system including a selective catalytic reduction (SCR) system, significantly minimizing NOx emissions.
DILBAR is equipped with air-injection systems for lower emissions and greater efficiency
The air-injection solutions at the transverse thruster and beneath the hull result in reduced noise emissions, lower vibration and greater fuel efficiency.
Battery installations on two vessels enable peak-load shaving and energy storage
MADSUMMER and the refitted DRAGONFLY feature large integrated batteries to store electrical energy and absorb short-term load peaks, avoiding the need to start a second generator.
The Innovation Lab sees the first-ever feasible fuel-cell solution for yachts
The Innovation Lab yields the first maritime PEM fuel-cell system equipped with an integrated methanol reformer and fully integrated into the yacht environment.
GREEN HYDROGEN YACHTS
THE FUTURE OF YACHTING: ZERO GREENHOUSE GAS EMISSIONS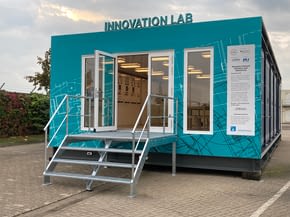 Awareness of the need for clean energy is growing. But in many industries, companies struggle to find mature and effective technological solutions or simply lack the vision to take decisive action. Others are constrained by the demand to deliver shareholder value. At Lürssen, we're convinced that the superyacht industry represents a unique opportunity to make meaningful advances, which can then be applied elsewhere.

Visionary owners with a fascination for innovation and a passion for the sea are predestined to support the drive for cutting-edge clean energies. In addition, as family-owned and operated yacht-builder, Lürssen has the freedom to pursue bold visions. In a strategic partnership with maritime fuel cell expert Freudenberg, we are in the process of introducing fuel-cell powered ships.
BIO-BASED METHANOL FOR FUEL CELLS
PROJECT PAXELL: COLLABORATING TO DRIVE INNOVATION
As of 2009, Lürssen has partnered with a national research project termed Pa-X-ell. Further partners include Besecke, Carnival Maritime, DLR, DNV, EPEA, Freudenberg and Meyer Werft. The collaboration partners have developed and tested a hybrid energy system with a new generation of PEM fuel cells for yachts and other passenger vessels. The pilot project uses methanol stored in tanks to produce hydrogen, which in turn feeds fuel cells that power engines and electric motors, resulting in zero emissions of nitrogen oxides, sulphur oxides, soot and CO2 (greenhouse gasses). When "green" bio-based methanol is used, the entire process becomes greenhouse gas-free. Lürssen is working to advance sustainable yachting. Take a virtual tour of the Innovation Lab and the Pa-X-ell project.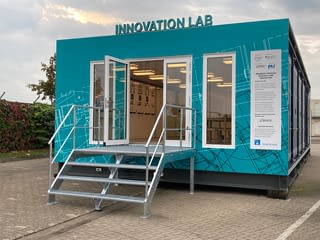 INNOVATIVE AND SUSTAINABLE: TESUMO
A TEAK ALTERNATIVE WITH SUPERIOR QUALITIES FOR SHIPDECKS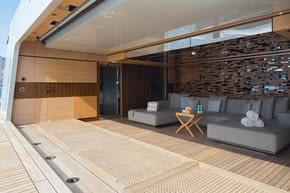 It takes innovative approaches to address sustainability issues. In 2008, Lürssen launched a project to develop an alternative to teak for shipdecks in collaboration with the University of Göttingen and the Bavarian shipdeck specialist Wolz. The result of the joint effort is Tesumo, a sustainably cultivated wood that undergoes an innovative modification process before use. Tesumo not only offers the beauty and warmth associated with teak, but actually surpasses the traditional wood of choice in many of its durability and functional properties.
EXHAUST AFTERTREATMENT SYSTEM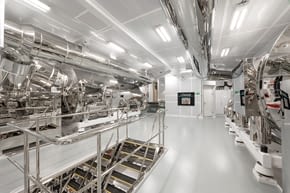 We now fit the exhaust aftertreatment system on all Lürssen yachts with keels laid after 1 January 2016. Meeting regulations on limiting nitrogen oxide (NOx) emissions is a major challenge for the superyacht industry. Ships propelled by diesel engines can achieve these limits only with bulky selective catalytic reduction (SCR) systems that take up space and add weight, in turn reducing energy efficiency. Lürssen set out to develop an innovative exhaust aftertreatment system that would significantly reduce NOx emissions while also reducing space, weight, noise and vibration. We launched the R&D and implementation process in 2015 with the partners HUG Engineering and Nießing Anlagenbau. The project received funding from the German Federal Ministry for Economic Affairs and Energy. Together, we developed the concept and successfully tested it within just two years.
BETTER DATA, BETTER ENERGY EFFICIENCY
INTERCONNECTING ENERGY MANAGEMENT AND MONITORING SYSTEMS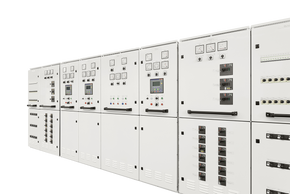 By merging energy-related data from on-board functions and systems, we systematically enhance the transparency and energy efficiency of our vessels. Operating, monitoring and analytical functions are interconnected across system boundaries. During yacht construction, the electrical design department at Lürssen gathers and analyses more than 10,000 operational data points, spanning basic alarm information to the voltage and current of each switchboard. To best utilise all these data, we have created an automated platform to intelligently and efficiently manage energy generation, distribution and consumption on board. It features an open-interface architecture incorporating the many individual systems unique to each project.
SMART MANUFACTURE
APPLYING THE LATEST DIGITAL TECH TO TRADIONAL CUSTOM YACHT BUILDING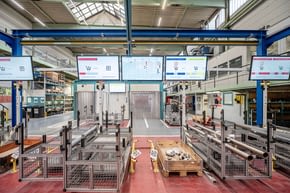 Digitalisation is revolutionising manufacturing, with the automotive industry leading the way. In luxury yacht construction, where tailored concepts and individual solutions are the hallmark of an outstanding shipyard, the transition to digitalised processes is not so simple. To overcome this barrier and apply digitalisation to custom-built yacht projects, Lürssen uses cutting-edge solutions like laser-marking to give each component of a vessel its own unique data matrix code. This links it to all relevant data. When scanned, the code enables our system to provide detailed information about where the piece belongs, when it needs to be installed and the quality checks required.
Are you an early adopter?
We look forward to talking about your innovative yacht
---