1st Generation

Friedrich Lürßen
1st Generation

Friedrich Lürßen
1851-1916
Friedrich Lürßen founds the company
After training as a boatbuilder, Friedrich Lürßen wants to join the boatyard of his father, Lüder Lürssen. Lüder advises his son to start a yard of his own – a single company would be insufficient to support two families. On June 27, 24-year-old Friedrich sets up a boatbuilding workshop in Aumund, near Bremen, Germany. His first vessel demonstrates his trademarks: originality and high quality. Friedrich Lürßen's shipyard grows and thrives, and at one point he even begins placing orders with his father.

Reputation in racing rowboats
Lürssen initially only builds racing rowboats for Bremen oarsmen, but orders are increasingly coming in from all over Germany. The word spreads that Lürssen boats are not only beautifully designed, but also outstanding in precise workmanship and quality – and thanks to their lightweight construction, they are very fast and place well in regattas.
World's first motorboat – a Lürssen
Lürssen builds the world's first motorboat. The 6-meter REMS is commissioned by the inventor and engine manufacturer Gottlieb Daimler, who needs a boat to put his new engine through its paces. Friedrich Lürßen, always open to new ideas, designs and builds it without delay. The Daimler engine that powers it has a displacement of 0.462 litres, weighs 60 kilograms, and has an output 1.5 hp at 700 rpm.

Lürssen expands to the shoreline
The Lürssen yard is expanding and now includes a site in Bremen-Vegesack. For the first time the shipyard now has direct access to the open water.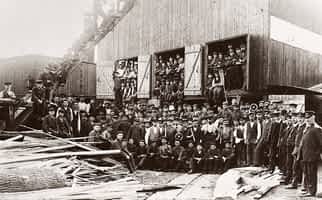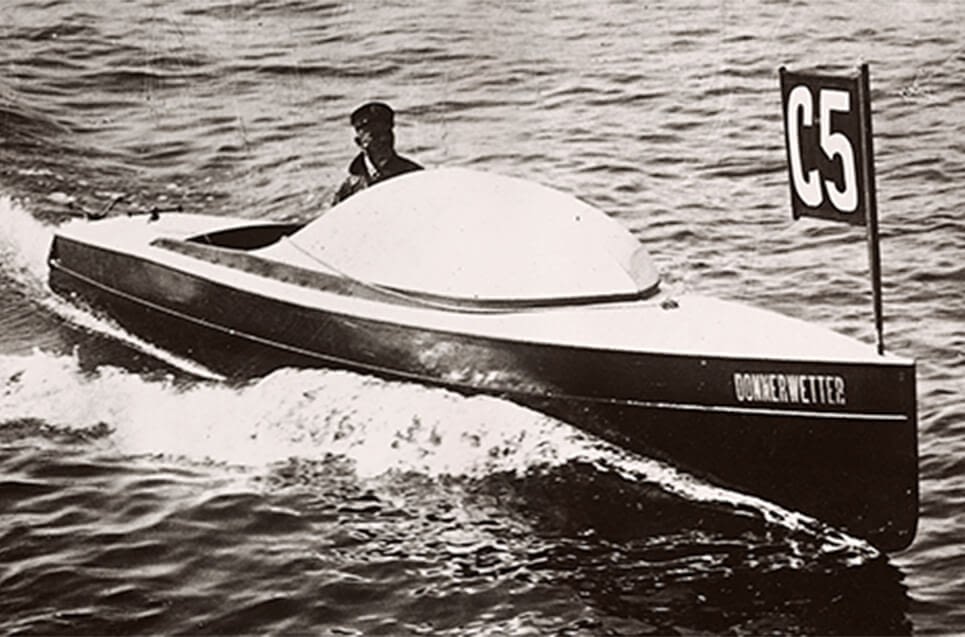 DONNERWETTER – remarkably fast
With a slimline forecastle and low water and air resistance, the successful racing speedboat DONNERWETTER, developed by Otto Lürßen, reaches a speed of nearly 35 knots with a 40-hp engine. This is a remarkable achievement for the time.
2nd Generation


Otto & Frieda Lürßen
2nd Generation

Otto Lürßen becomes a partner
Friedrich Lürßen's only son Otto joins the firm as a partner, contributing far-reaching practical and theoretical knowledge. As a shipbuilding engineer he combines tried and trusted craftsmanship with new technical expertise, improving on past methods. This approach, handed down over the decades, remains to this day the essence of Lürssen's unique quality and innovative spirit.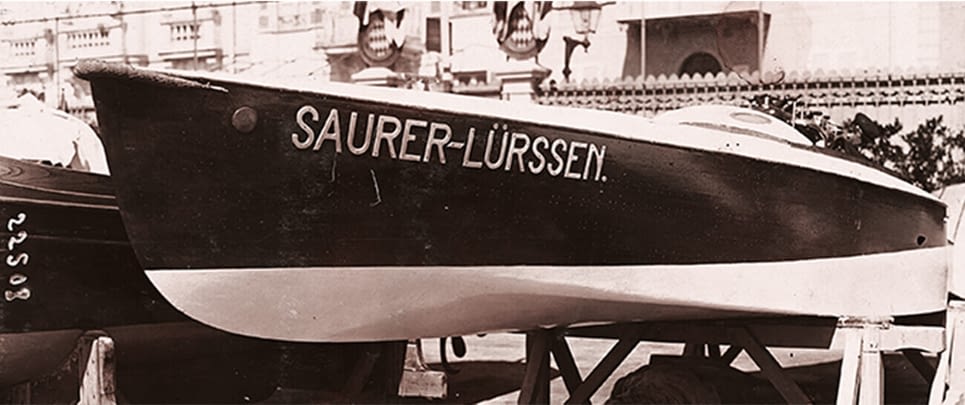 Lürssen-Daimler world champion
The LÜRSSEN-DAIMLER with a 102-hp engine is the sensation of the racing season. In the Mediterranean near Monaco, she wins the unofficial world championship, the Champion of the Sea. The speedboat goes on to win the Prix de la Côte d'Azur and the Grand Prix des Nations later in the same year. A further speedboat, the SAURER-LÜRSSEN, a joint project with Swiss engine manufacturer Adolf Saurer, sets another unofficial world record in the Prix de Monte Carlo with an average speed of 32 knots.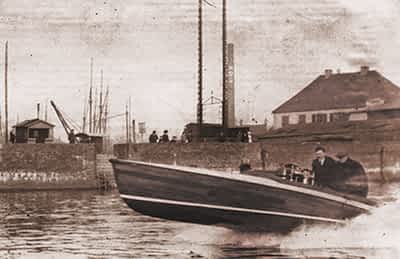 LÜRSSEN-DAIMLER
50th anniversary and 10,000th ship
Two milestones in one year: Lürssen builds its 10,000th vessel, a 14-meter wooden motor yacht, a sister ship of the ONKEL FIDI II. In addition, the company celebrates its 50th anniversary.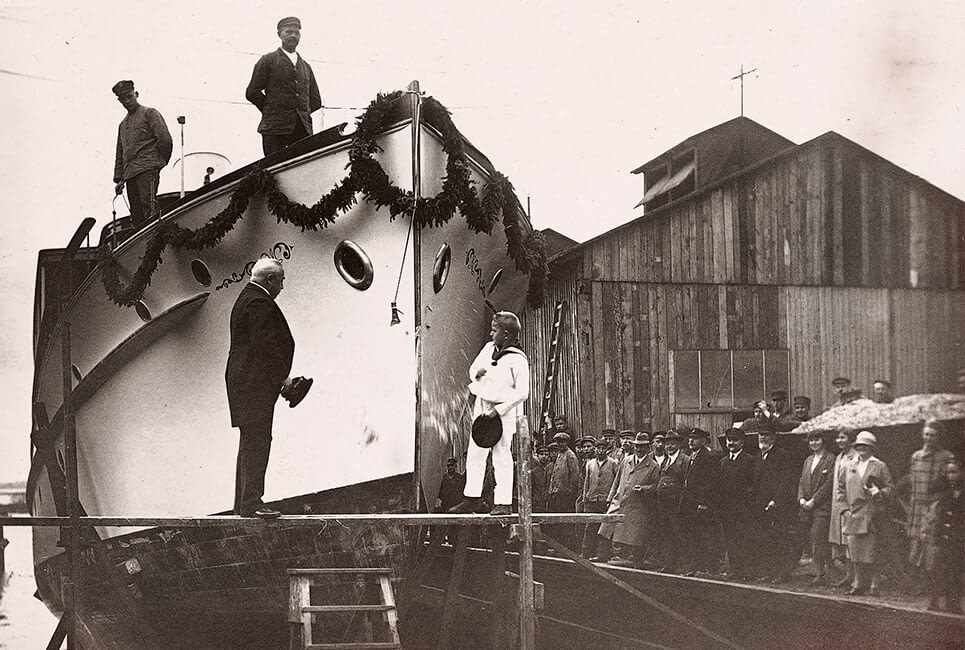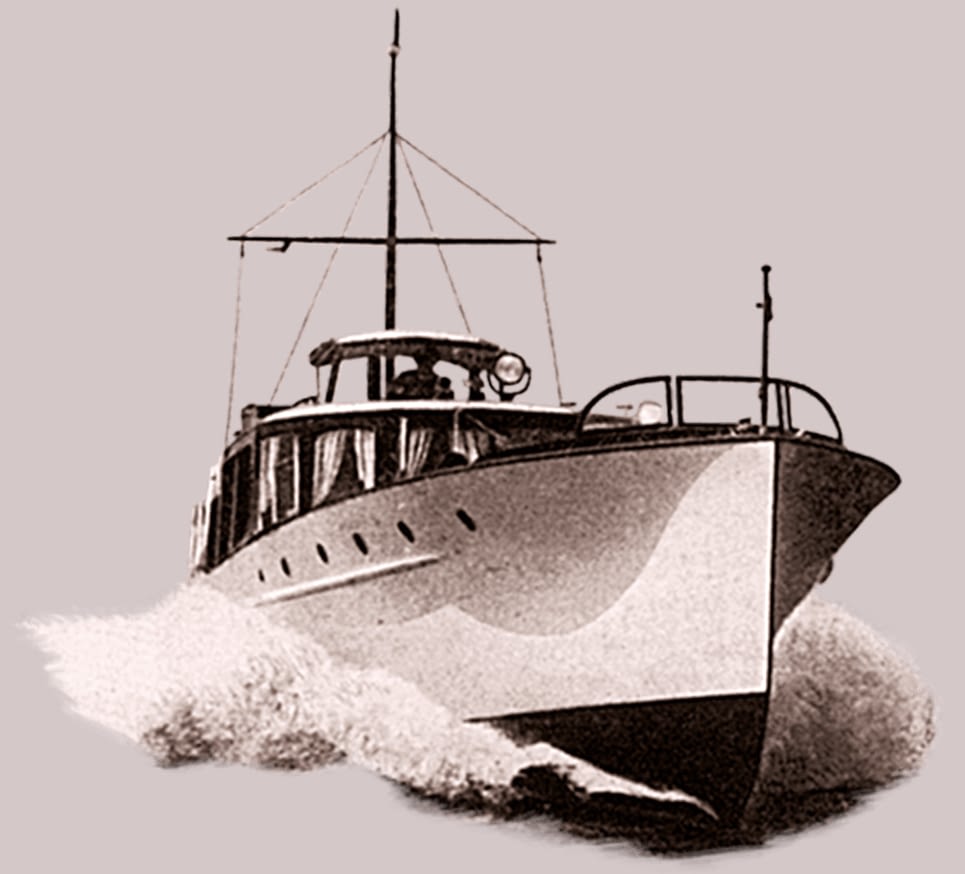 OHEKA II with MAYBACH engines sets a world record
Lürssen sets another new standard. With OHEKA II, equipped with three Maybach engines that propel her to a top speed of 34 knots, Lürssen builds the world's fastest commuter yacht. Later the same year, the company builds the world's longest motor yacht: the 36-meter AAR IV.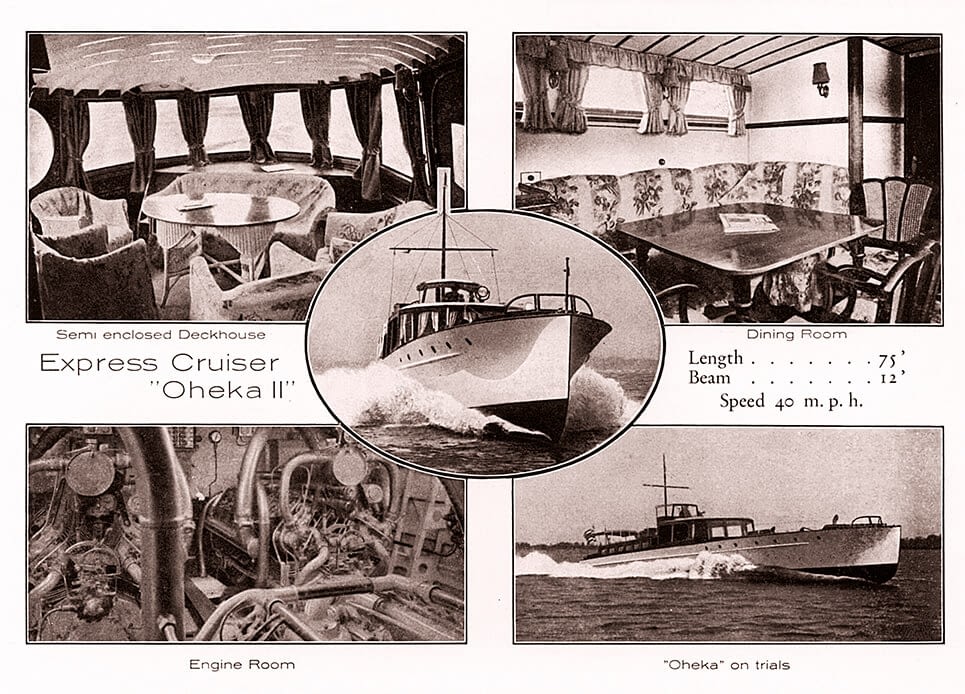 Frieda Lürßen takes charge
The abrupt death of 52-year-old Otto Lürßen, who directed the company in a spirit of open-mindedness and passion for innovation, is a bitter loss for the shipyard and the entire industry. His wife, Frieda Lürßen, the strong-willed daughter of a captain of a large cruise ship, fills the gap and takes over at the helm of the Lürssen yard.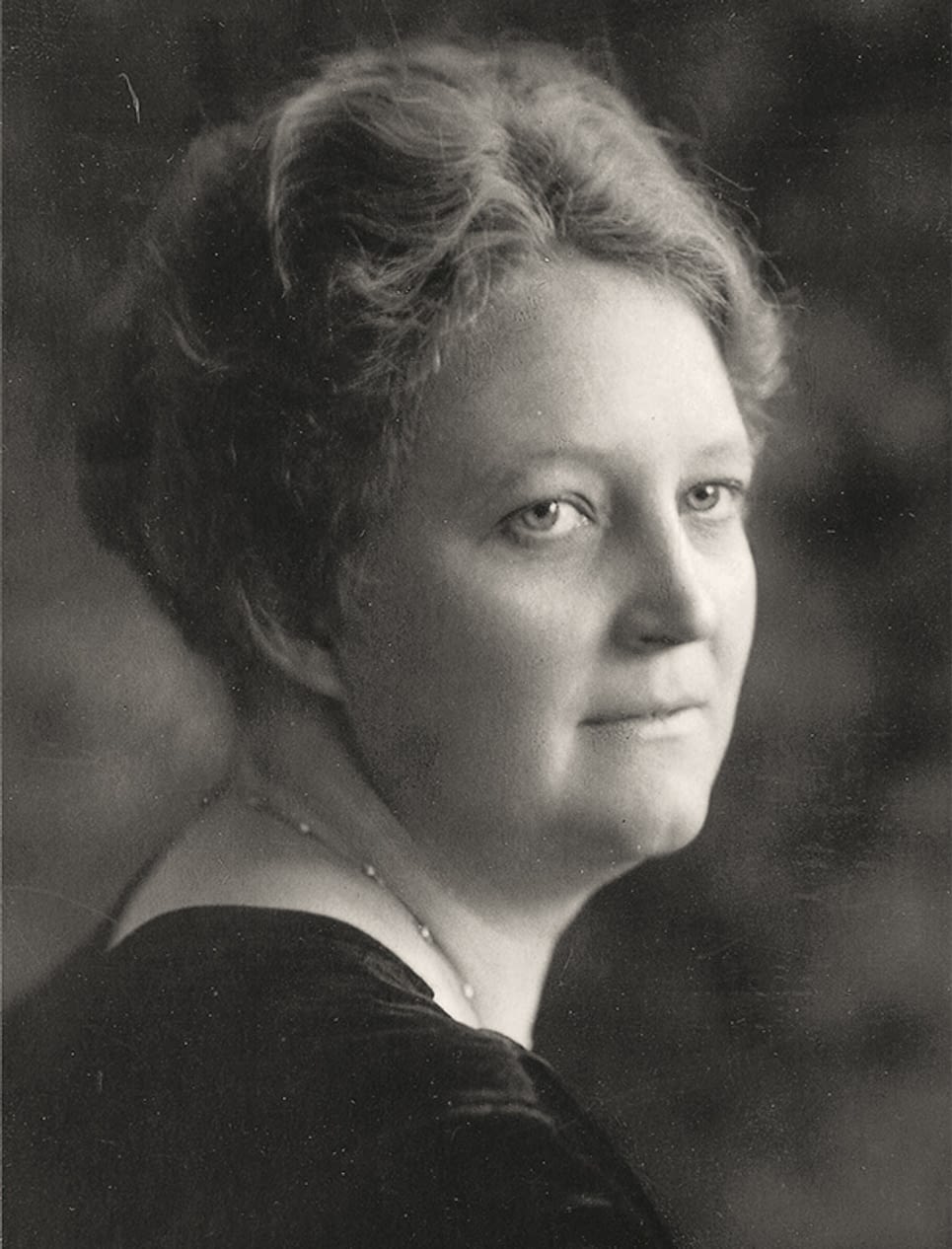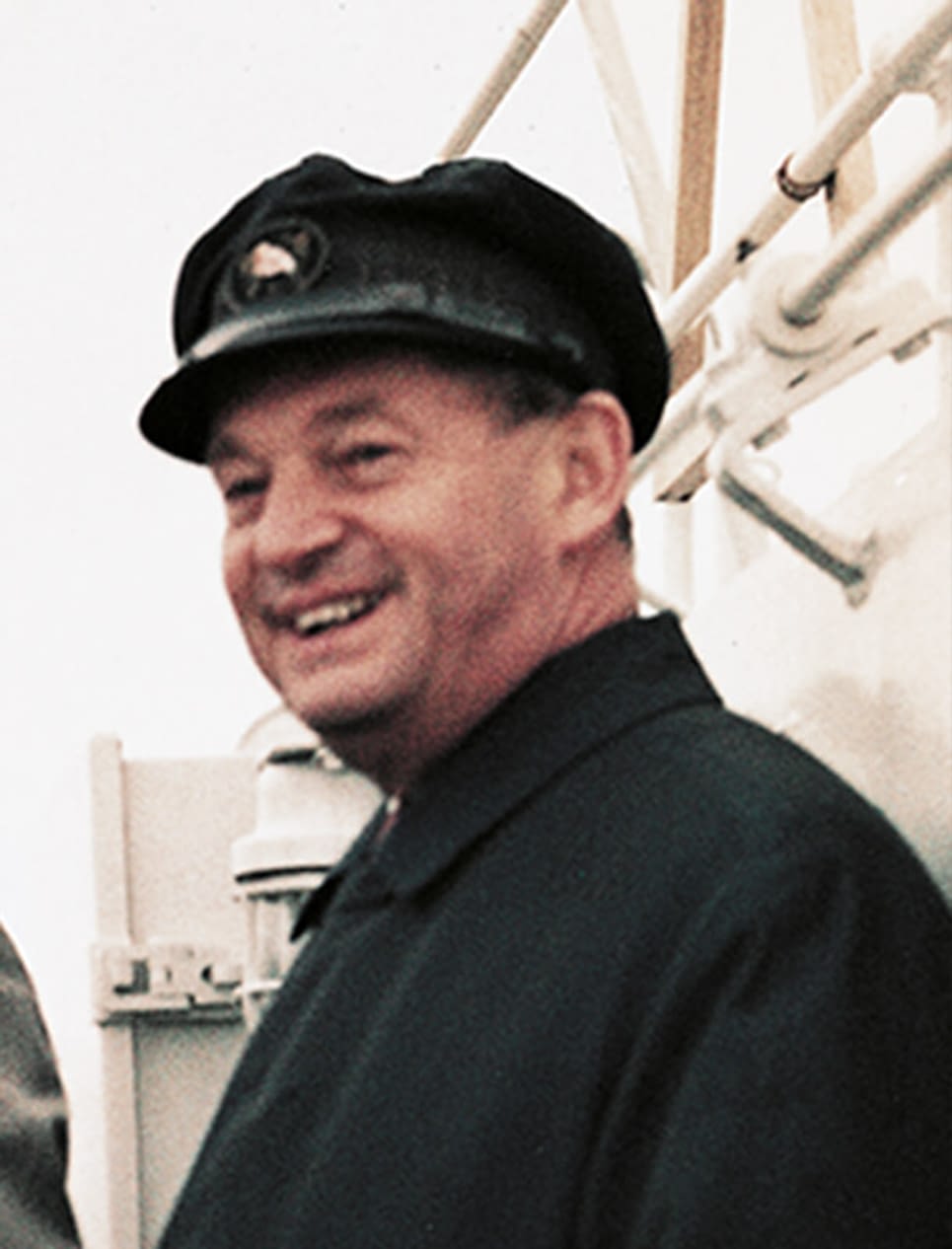 Gert Lürßen joins the company
The third generation takes on more responsibility at Lürssen: Gert Lürßen comes on board – bringing along the passion for motorboats he inherited from his father. In 1939, he sets an impressive world speed record on the lower reaches of the Weser River in a Lürssen diesel-powered speedboat, achieving a speed of exactly 68.2 km/h.
3rd Generation


Gert & Fritz-Otto Lürßen
3rd Generation


Fritz-Otto Lürßen
1917-1981
New beginning:
Gert and Fritz-Otto Lürßen
Business is difficult in the wake of the war. Everyone has to start from scratch and the Lürssen shipyard is no exception. During this time of change, the brothers Gert and Fritz-Otto Lürßen agree on the division of shares in company, which they hold from then on jointly with their mother Frieda Lürßen.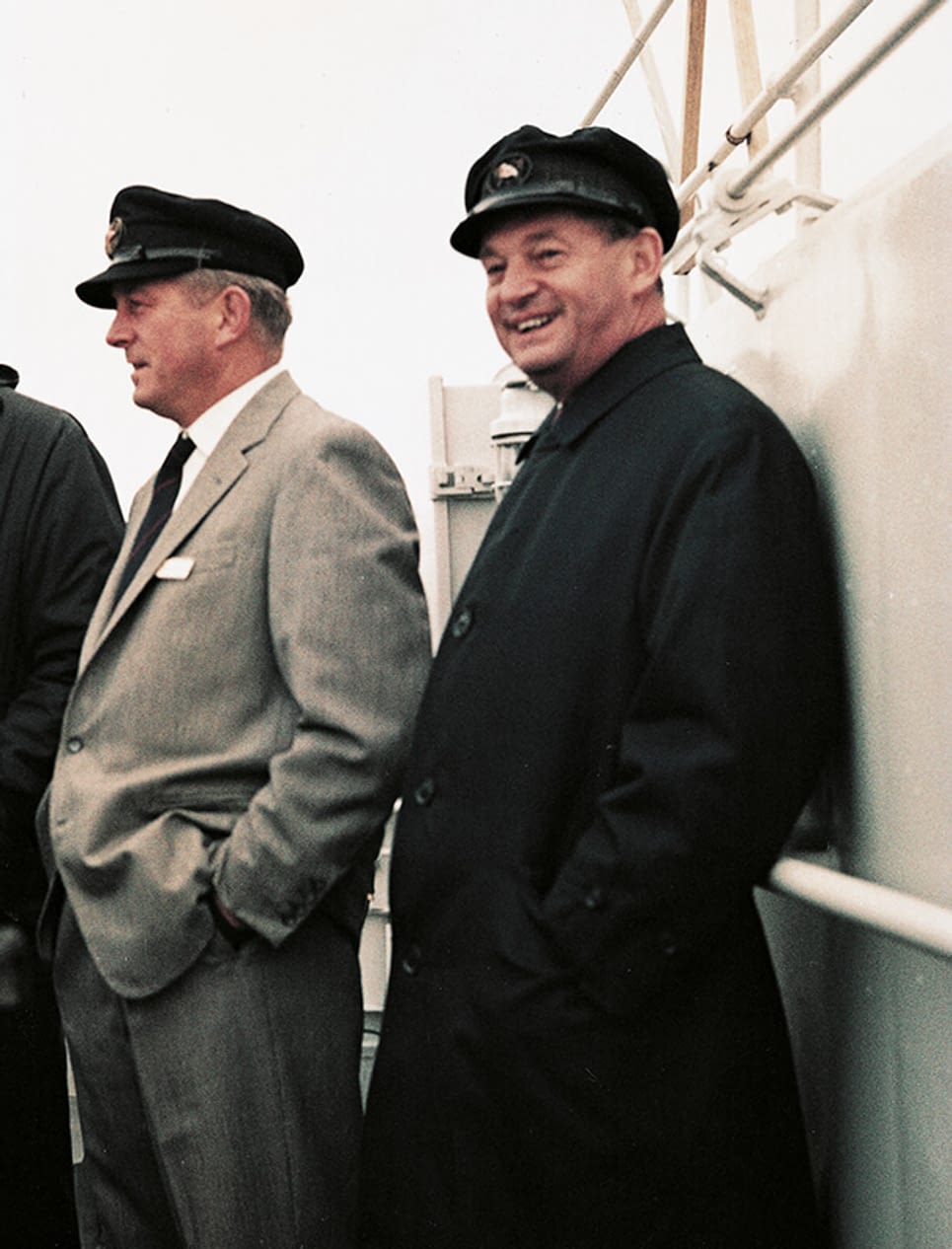 Third generation takes the helm
Frieda Lürßen, who has led the company with greater perseverance and technical expertise, hands over responsibility for the firm to her sons Gert and Fritz-Otto. That same year the 55-meter yacht PEGASUS II is delivered, like her predecessor, to a London shipowner.
CARINTHIA VI redefines yacht design
Her exterior design sets new worldwide standards: the yacht CARINTHIA VI is designed by Jon Bannenberg – his first major yacht project. To this day, the 71-meter vessel remains contemporary in styling, and she can be seen as the precursor of today's Lürssen yachts.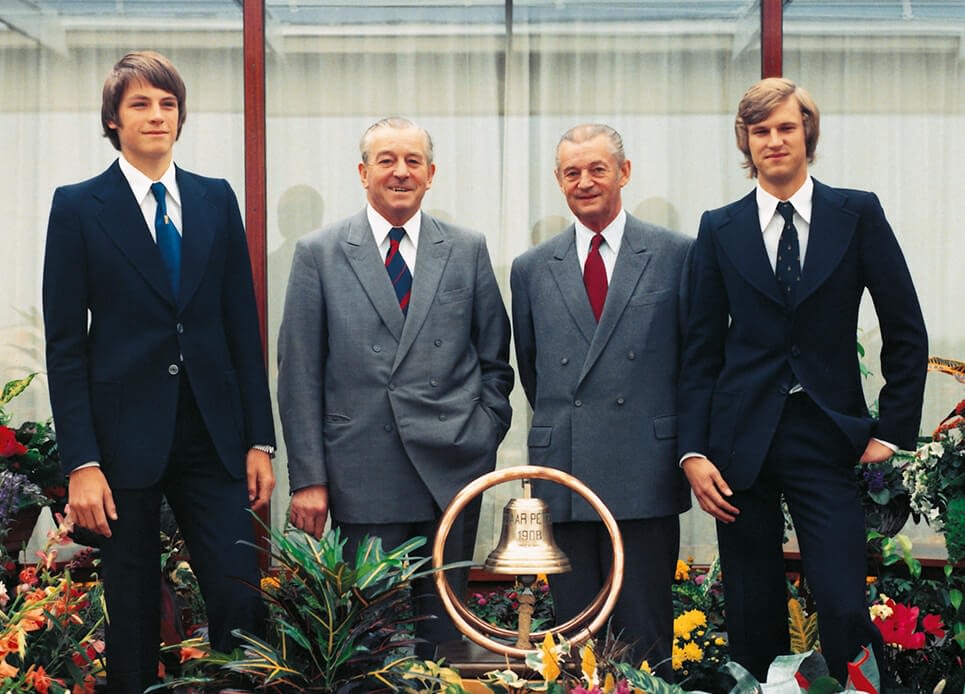 Centennial
Lürssen celebrates a century in business. Highlights include an exhibition illustrating the company's varied history. Friedrich and Peter Lürßen, sons of owners Gert and Fritz-Otto Lürßen, receive their first shares in the firm.
4th Generation


Friedrich & Peter Lürßen
4th Generation

Friedrich Lürßen
born 1949
Friedrich Lürßen joins the company
At the age of 27, Friedrich Lürßen joins the company. After earning a degree in business administration and experience at various jobs in international companies, he starts to work his way through all departments of the shipyard. He soon assumes a senior position.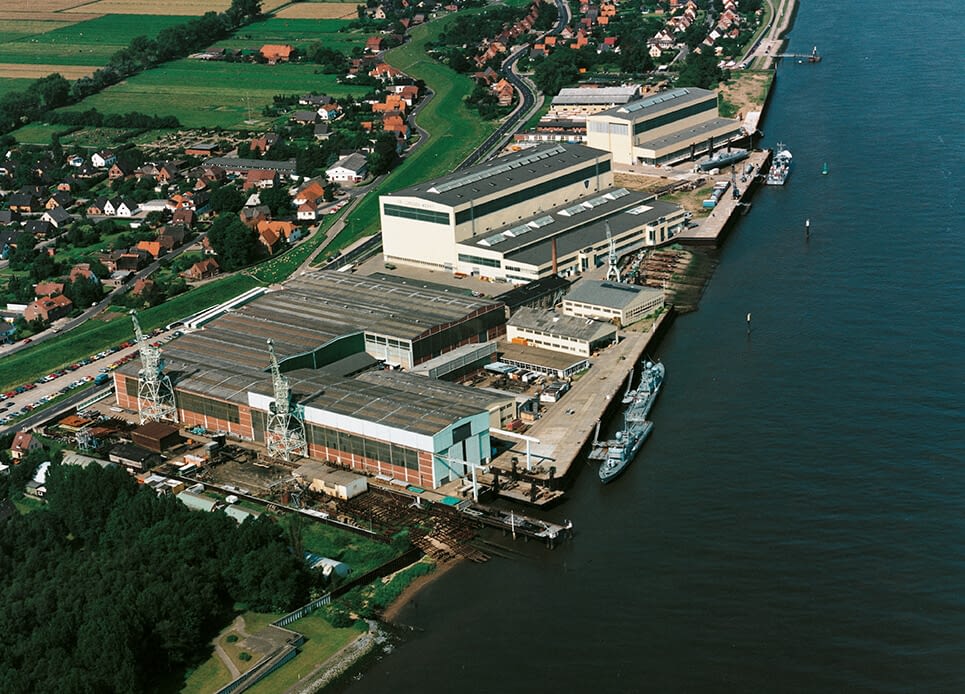 All production shifts to Lemwerder
A company on the move: in the winter of 1985/86, the last production facilities in Bremen Vegesack are torn down. The transfer of shipbuilding work to Lemwerder, which has been increasing since 1980, is completed.
Peter Lürßen joins the company
After studying shipbuilding and industrial engineering in Germany and business administration in the United States as well as gathering considerable professional experience, Peter Lürßen comes on board. In previous positions, he had spent a year as a construction inspector at different Japanese shipyards, and already familiarized himself with various Lürssen departments.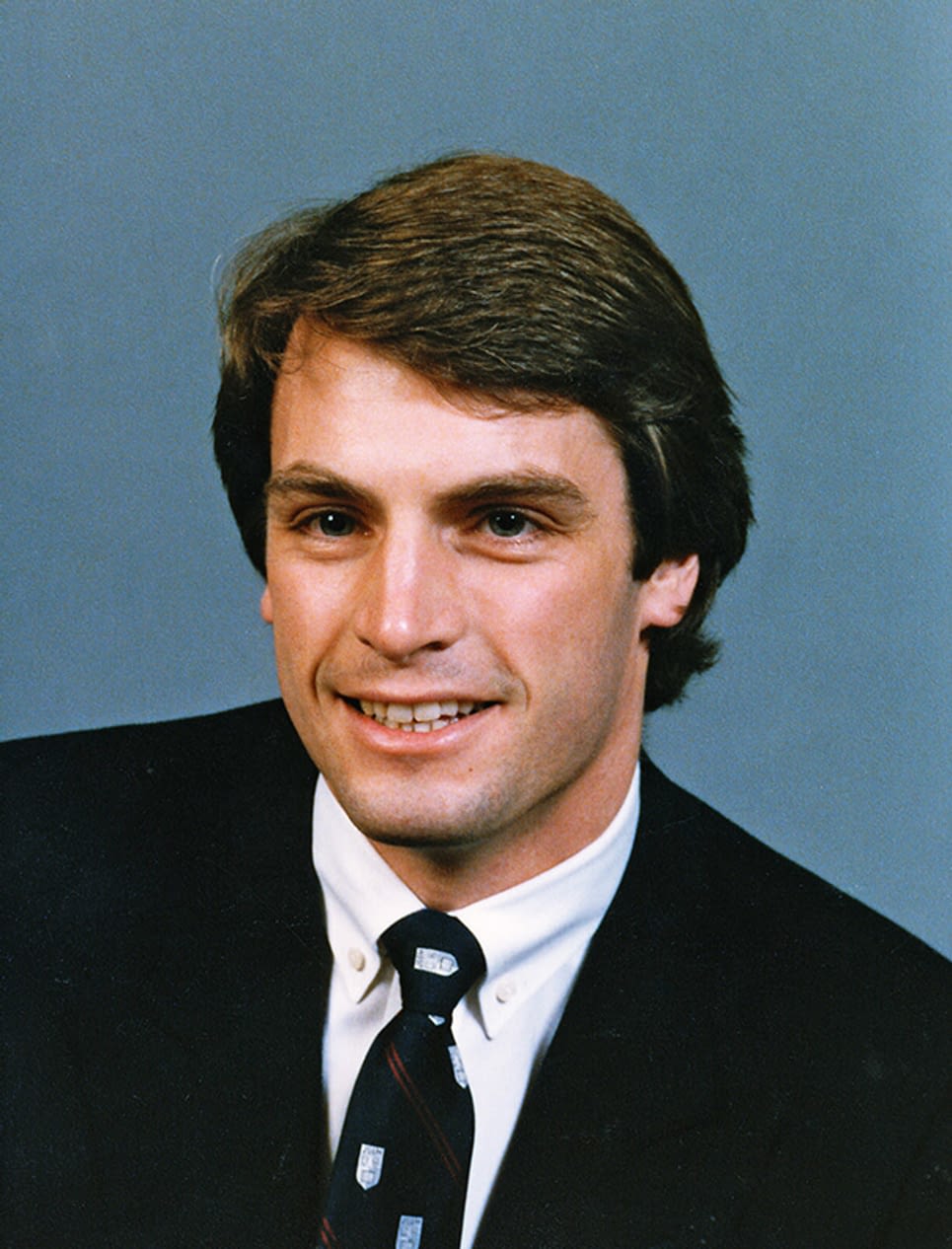 New shipyard acquired
With the takeover of the Kröger Werft, with docks on the Kiel Canal near Rendsburg, Lürssen gains a long-established shipyard that goes on to specialize in building yachts of between 60 and 110 meters in length. Yacht refits and conversions are also undertaken at this location.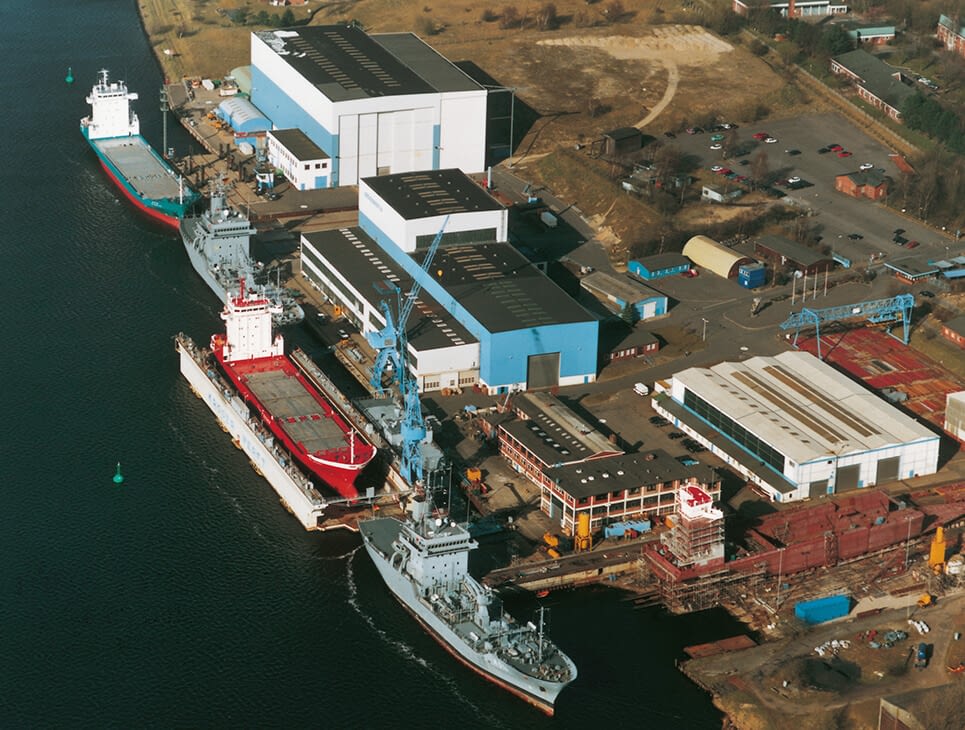 New yacht division established
With Lürssen shipyards operating at 90 percent capacity with navy contracts, the company decides to split production between naval and yacht business. From now on, the company devotes half of its production capacity to building large yachts, in the process setting up a new yachtbuilding division dedicated to this market.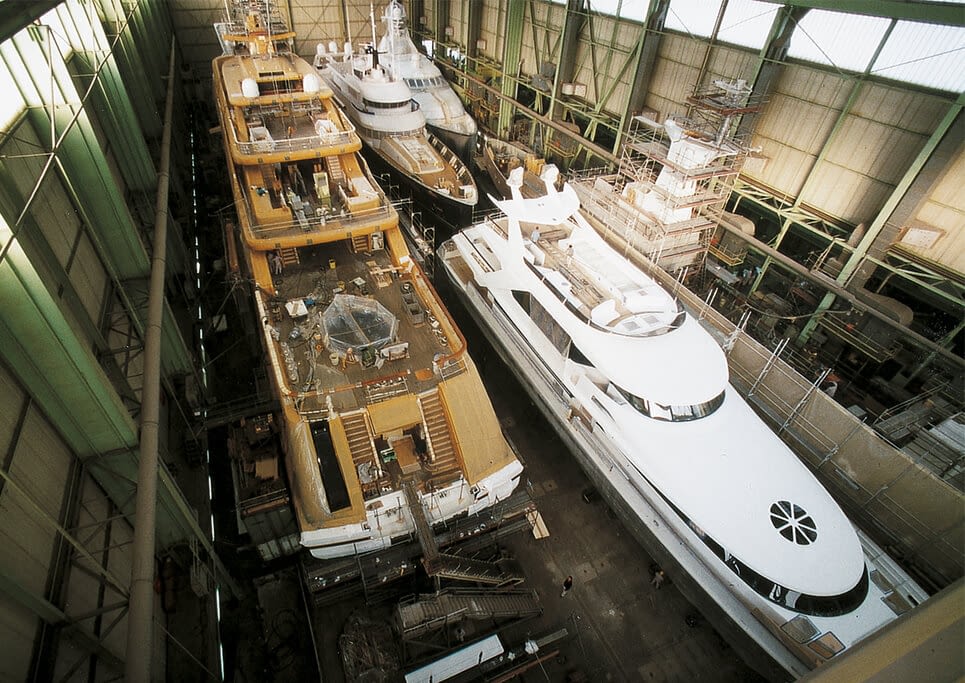 Limitless pushes the limits
The 97-meter megayacht LIMITLESS, designed by the highly regarded designer Jon Bannenberg, is handed over to her owner.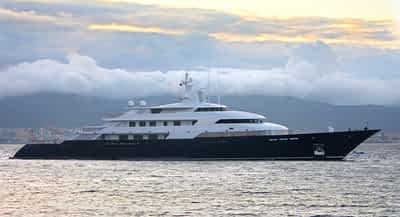 Jubilee: 125 years since founding
One-and-a-quarter centuries after its founding by Friedrich Lürßen, the company celebrates an important anniversary. The small boatbuilding company on the Weser River has grown into a large shipyard that builds military vessels as well as modern megayachts.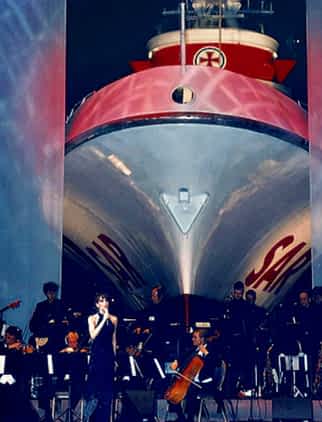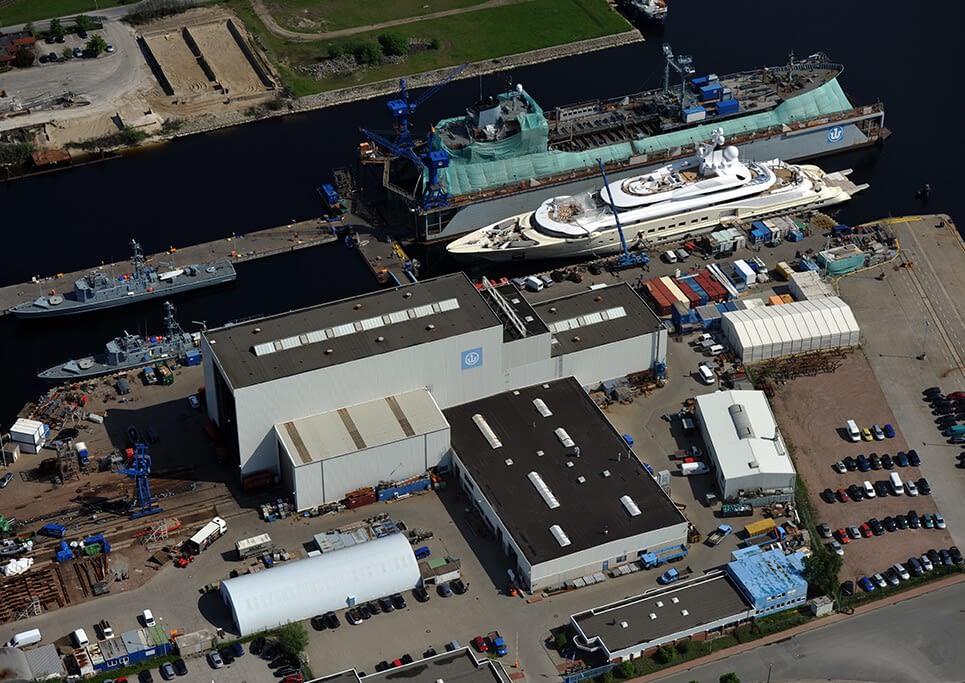 Acquisition of Neue Jadewerft
Lürssen purchases the Neue Jadewerft shipyard in Wilhelmshaven on the German North Sea coast. It is specialized in naval vessels and also in maintenance, repair and conversion work on ships up to 150 meters in length.
Norderwerft shipyard acquired
The Norderwerft shipyard in Hamburg becomes part of the Lürssen Group in October 2012. Its main business is repair and maintenance of commercial shipping vessels as well as ship maintenance for the German Navy.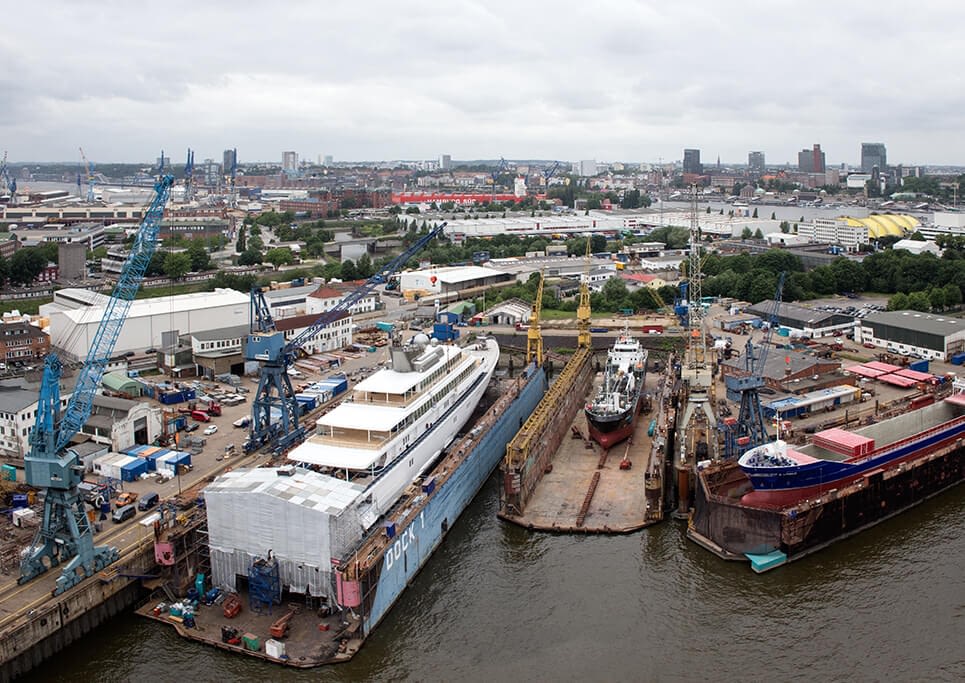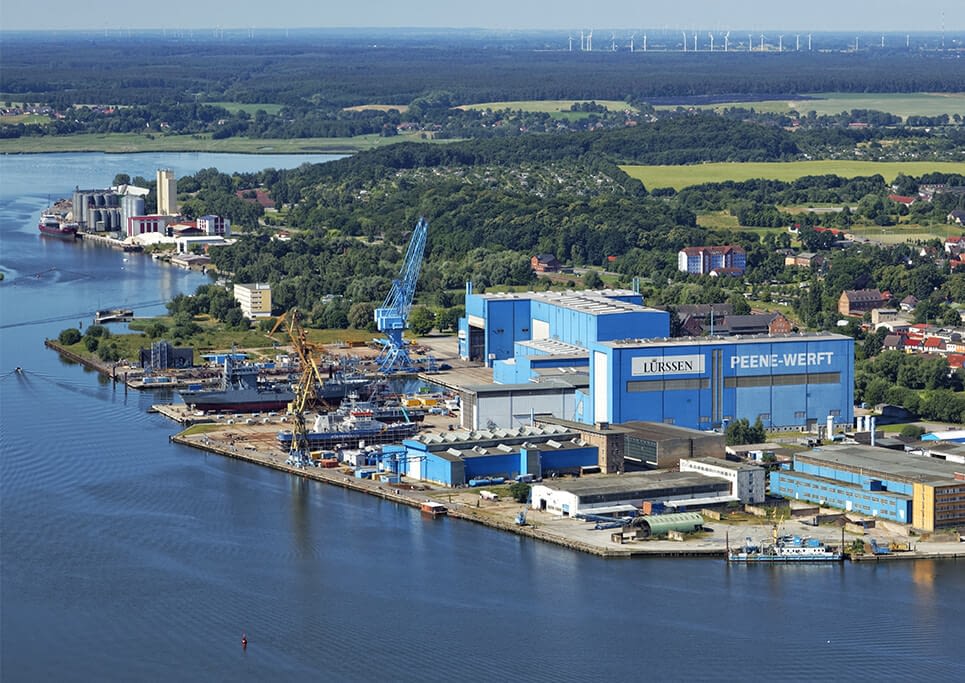 Acquisition of Peene Werft
In May 2013, Lürssen purchases Peene Werft shipyard in Wolgast, Germany. The facility provides newbuild and repair services for naval vessels as well as yachtbuilding.

The longest yacht in the world
Lürssen delivers the world's longest yacht, AZZAM, at 180.65 meters. She not only sets a record for length and speed exceeding 30 knots, but also for her building time of less than three years.
The biggest yacht in the world
DILBAR, the largest motor yacht the ever in terms of gross tonnage, leaves Lürssen shipyards. At 156 meters and loaded with highly sophisticated technology, she is one of the most complex and challenging yachts ever built. The 15,917-ton vessel features luxury entertainment and recreation spaces never before seen on a yacht. The impressive project was completed in just 52 months.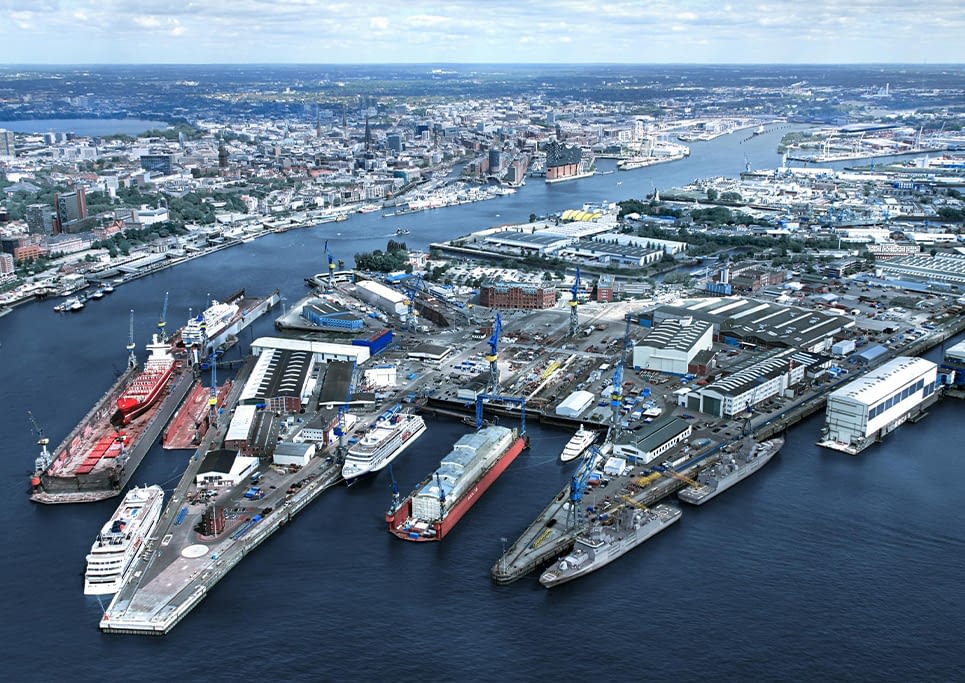 ACQUISITION OF BLOHM+VOSS SHIPYARD
The Hamburg shipyard Blohm+Voss becomes part of the Lürssen Group in 2016. Capacities will be expanded as a result. The yacht refit activities are concentrated at the Hamburg site.
Become a part of yacht history
Get in touch and get started
---